Book now
Hotel JL No 76 Amsterdam
CURRENCY: U.S. dollar USD

Euro (EUR)

Pound sterling (GBP)

U.S. dollar (USD)

Canadian Dollar (CAD)

Swiss Franc (CHF)

Yen (JPY)

Australian Dollar (AUD)

Yuan (CNY)

Rouble (RUB)

Rupee (INR)

Czech Koruna (CZK)

Norwegian Krone (NOK)

Danish Krone (DKK)

UAE Dirham (AED)

Brazilian Real (BRL)

Hong Kong Dollar (HKD)

Jordanian Dinar (JOD)

Malaysian Ringgit (MYR)

New Zealand Dollar (NZD)

Omani Rial (OMR)

Kina (PGK)

Romanian New Leu (RON)

Saudi Riyal (SAR)

Swedish Krona (SEK)

Singapore Dollar (SGD)

Thai Baht (THB)

CFP Franc (XPF)

South African Rand (ZAR)

Moroccan Dirham (MAD)

Argentine Peso (ARS)

Taiwan Dollar (TWD)

Kuwaiti Dinar (KWD)

Bahraini Dinar (BHD)

Icelandic Krona (ISK)

Philippine Peso (PHP)

Bermudian Dollar (BMD)

Paraguaian Guarani (PYG)

Brunei Dollar (BND)

Polish Zloty (PLN)

Shekel (ILS)

Mexican Peso (MXN)

Fiji dollar (FJD)

Qatari Riyal (QAR)

Kazakhstan Tenge (KZT)

Belarusian Ruble (BYN)

Namibian Dollar (NAD)

Uzbekistani Som (UZS)

Dobra (STN)

Honduran Lempira (HNL)

Malagasy Ariary (MGA)

Convertible Mark (BAM)

Indonesian Rupiah (IDR)

Colombian Peso (COP)

Tunisian Dinar (TND)

Turkish Lira (TRY)

Vietnamese Dong (VND)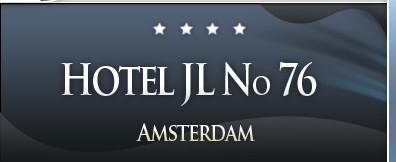 A hôtellerie jewel waits for you in Amsterdam city centre: Hotel JL No76. It's located just few steps far from Vondelpark as well as museums and fashion district, so it is the perfect solution for a holiday in the capital city.

Hotel provides 39 modern and designed rooms for its guests: to relax they can have a drink at the Honesty Bar or have a rest in the private internal garden; for a good dinner instead, JAN Eat & Drink restaurant is at their disposal.

In Hotel JL No 76 rooms, customers can find COCO-MAT beds comfort after a long business day or city sightseeing, as well as all the technologies of an iPod dock station or the convenience of a DVD player.


Give us your Feedback
Hotel JL No 76, Jan Luijkenstraat 76 - Amsterdam
AmsterdamHotels.it
Copyright © 2013 - 2020 | P.IVA# 03458490277